Our
Collage Maker
makes it easy for you to create stunning collages with just a few clicks! If you're not familiar with how Collage Maker works, check out our guide here to get to know what you're working with.
1. Workspace Basics:
When you open the Collage Maker, you are immediately taken to your workspace. If you've seen our guides on getting to know the
Photo Editor
or
Graphic Designer
, you'll see some similarities.
A. The Main Navigation Bar runs across the top of your workspace. Clicking 'Collage Maker' will let you switch app sections. You'll also find 'Open' and 'Save' options in the middle. On the right is a dropdown that you can use to change your settings, contact support, and more.
B. The
Left Hand Menu
is where you'll find all of the editing tools and your
Image Manager
. By default the Image Manager will appear when you first open Collage Maker. To choose a different section, hover over the icon to reveal the section name.
C. The Bottom Bar is where you can zoom in/out of your image, undo or redo your last edit, view your edit history, and reset your canvas (clear your current image).
D. The Canvas displays the image you're currently working on.
2. Uploading Photos
To use Collage Maker, you'll want to make sure your images are properly imported into BeFunky. Click 'Open' from the Main Nav bar to reveal the options from which you can upload a photo.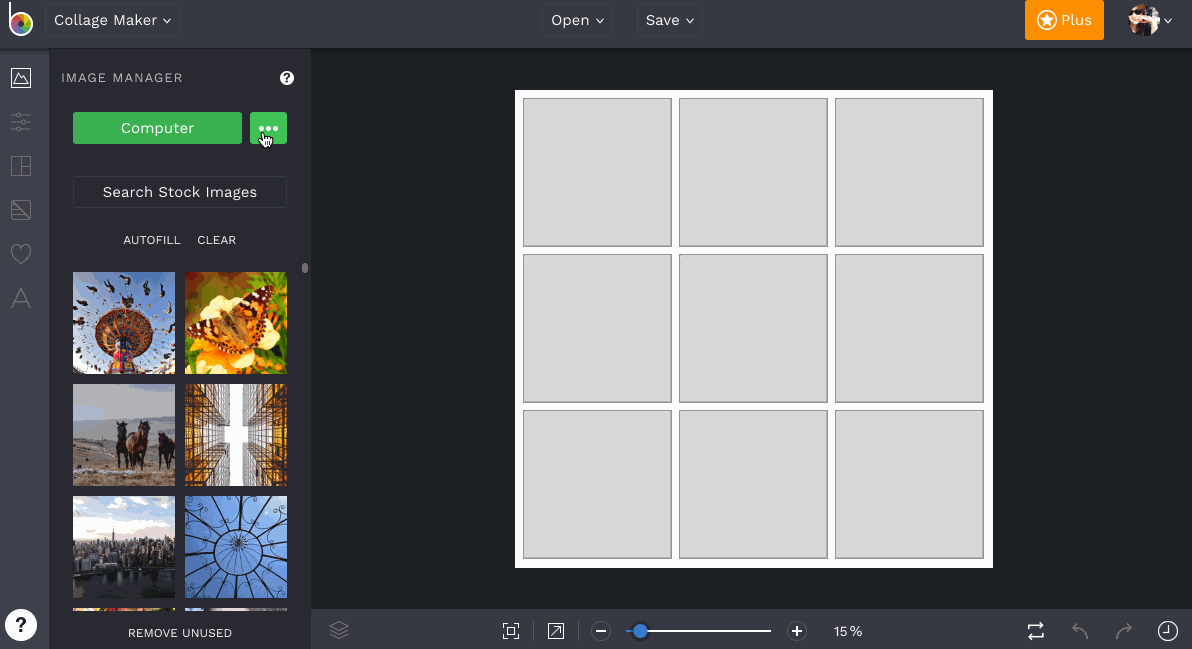 You can also use the Image Manager on the left side of your workspace to open your images. Click 'Computer' to search your computer's hard drive, click the three dots next to it to open from BeFunky or Facebook, or click 'Search Stock Images' to bring in stock images from our partnership with Pixabay and Pexels.
3. Zoom and Pan
Use the slider in the bottom bar to zoom in/out of our image. When you're zoomed in on your image, you can move it around on your canvas (panning) by holding the SPACE bar while you click and drag the image.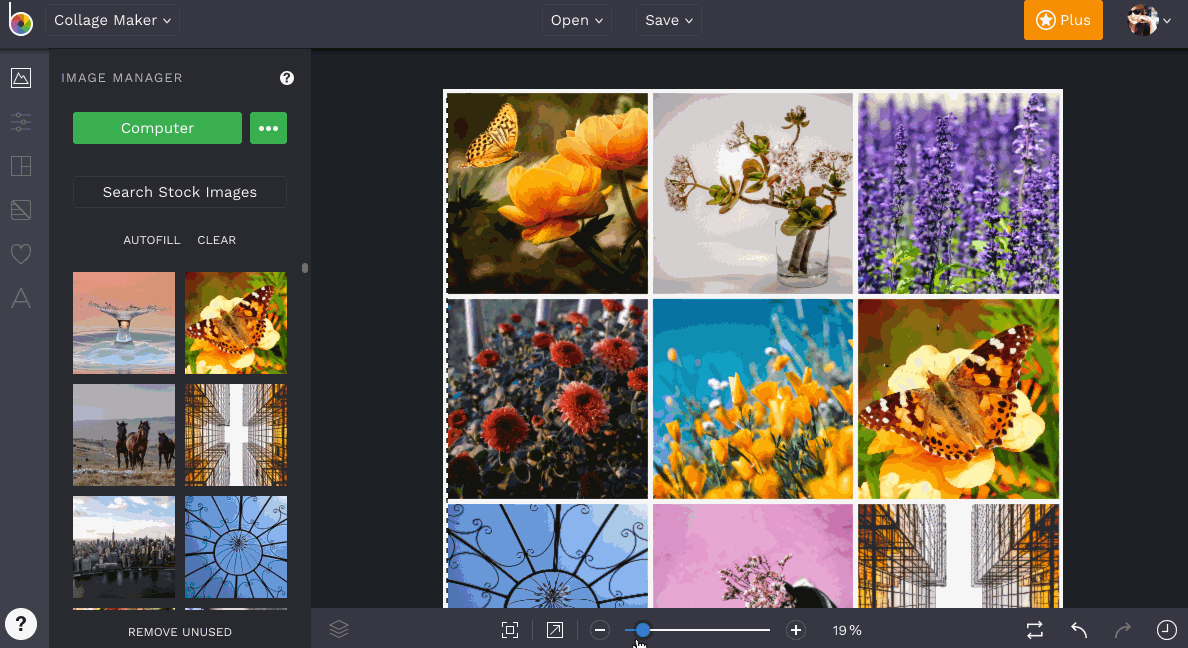 4. Undo and History
On the very right of the Bottom bar, you'll see four icons. The first is Reset (parallel arrows) which clears your current image from your canvas. The next two arrow icons are Undo and Redo.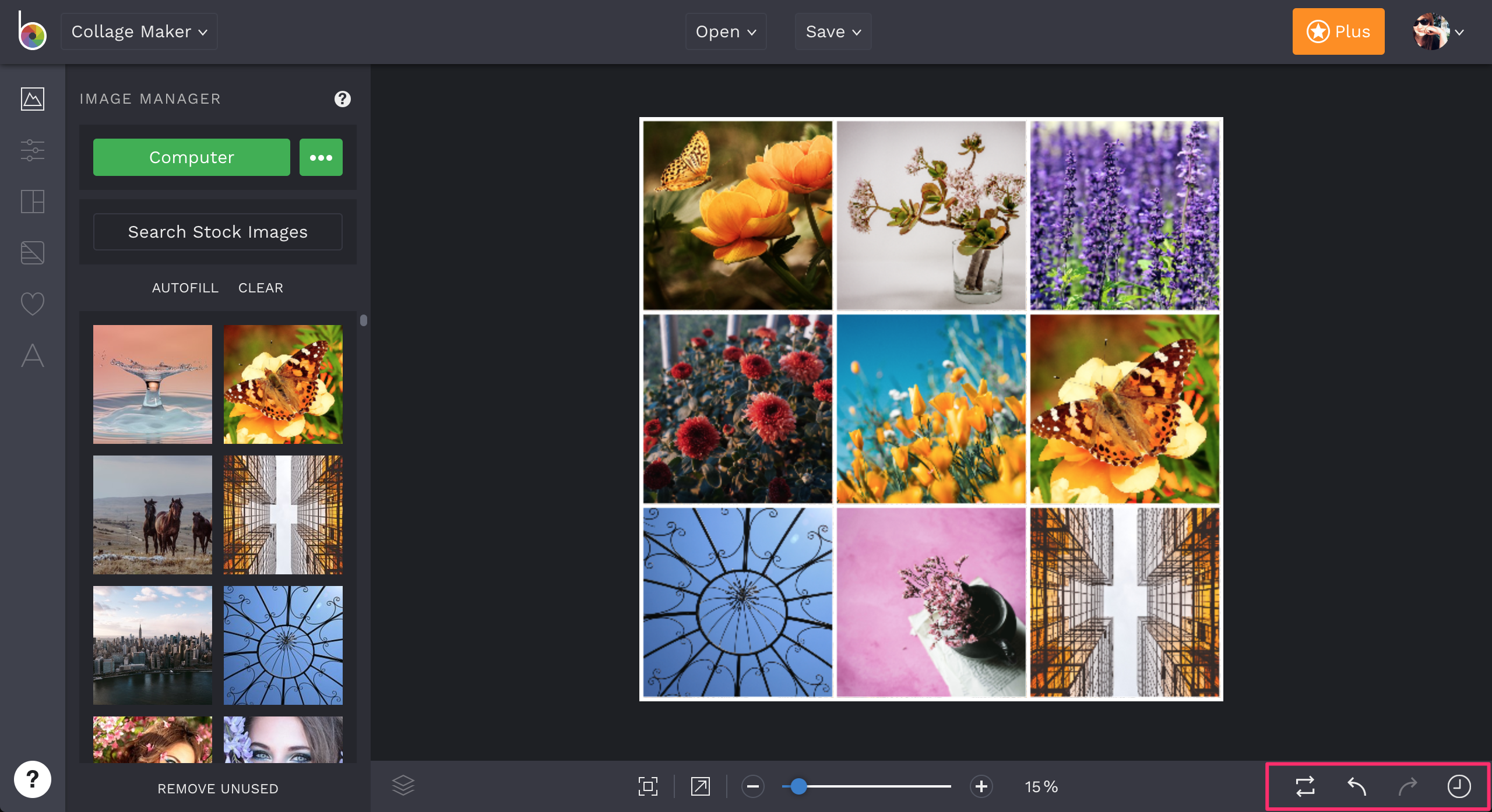 The clock icon opens your History panel. This is a visual history of the edits you've made to your collage. From here, you can revert to any stage of your editing process.
5. Saving and Sharing
You can
save your BeFunky project
a few different ways. Select
Save
from the Main Nav Bar to choose the location in which you'd like to save or share your project. You can also save as a BeFunky Project file (.BFD) which will keep all of your layers intact if you'd like to continue to edit your collage at a later date.