If you're having issues with your account or would like some guidance on how to best use BeFunky for your needs, please feel free to reach out to us!
While logged into BeFunky, you'll see your account menu in the top right corner. Click on that and follow the link for Help / Support.
This will take you to the main page of our Knowledge Base. If you have a question about the platform, start here! We have a great variety of Getting Started videos and User Guides to take you through all the tools in BeFunky. Use the search bar to type your question keywords and have relevant guides appear.
If you can't find your answer or have a question specific to your account, click the button in the top right corner that says Submit a Request. This will take you to a form to fill out the information about your request, and add any attachments that could be helpful.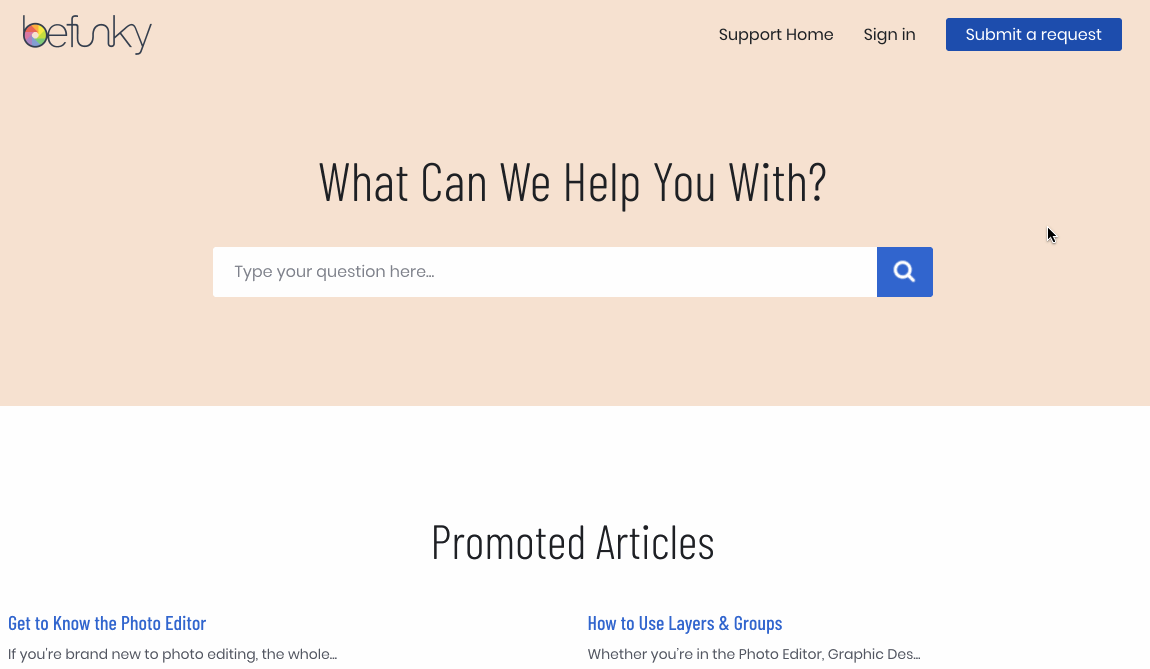 As you start typing in the subject of your request, you'll see articles with your keywords auto-populate in a drop-down menu. If any of these look helpful, click on them to take you to the corresponding support article.
You can also find a button at the bottom of every Knowledge Base article to Submit a Request that will take you to this same page.
Please provide us with as much information as possible in your request, so we can help you to the best of our ability!
Helpful information to include:
Which application you're using (Photo Editor, Collage Maker, Graphic Designer)

What steps you took before you encountered the issue

The browser version you're using (Chrome, Safari, Firefox, and the version i.e. Chrome 75 or Safari 12.1, etc)

Attach any screen shots or videos that could help pinpoint your issue
Once your request is received, a member of our support team will be in contact with you as soon as possible!