The Cutout tool in our Photo Editor is a go-to anytime you want to cut out objects from a photo and place them on a new background or create transparent backgrounds around objects in an image. You can find our Cutout tool in the Edit section of our Photo Editor.
The first thing we recommend you try is the Remove Background tool. Using Artificial Intelligence, this tool automatically detects and isolates the subject in your image and removes the background around it. Here's a full tutorial for our A.I. Background Remover.
If your image doesn't have a defined subject or the image is busy, the Background Remover may not be the best tool. In these situations, you'll want to use the options in the Cutout tool.
Important Note: Once you have removed the background of the image, we recommend saving it as a PNG. This will automatically detect any transparencies in the image and keep them transparent. This is ideal for saving images as layers to use later, or for printing. If saved as a JPG, any transparent background will be white when uploaded.
Step 1: Open your photo in the Photo Editor.
Step 2: Open the Edit section from the left-hand menu, and select Cutout.
Step 3: Select the Cutout tool you want to use on your image
These are the Cutout tool options:
Paint Brush: Allows you to manually cutout around your subject using your mouse as a paintbrush.

Lasso: A freeform tool that allows you draw a circle around your subject to select it.

Polygonal Lasso: Makes it easy to select objects with defined lines and angles.

Circular: Lets you select circle/oval-shaped areas.

Rectangular: Lets you select square/rectangle-shaped areas.

Magic Brush: Use this brush to intelligently detect the edge of your subject based on color profile.
Paint Brush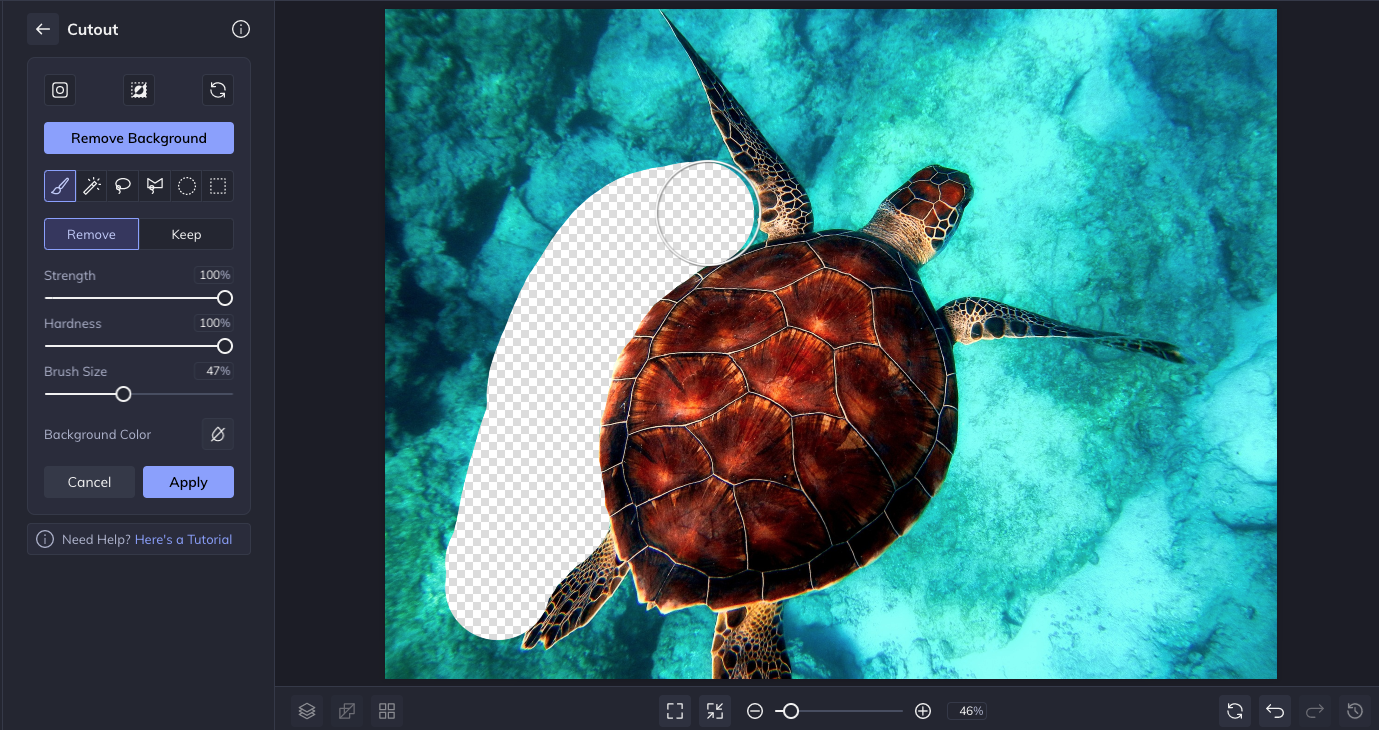 Step 1: When you select Paint Brush, you'll see a few different settings in the Cutout menu.
Remove: Use this to remove the area of the image you select with the brush

Keep: Use this to keep the area of the image you select with the brush.

Brush Size: Controls the size of the brush tool you use for selection.

Brush Strength: Controls how heavily the brush tool is applied.

Brush Hardness: Controls how defined the edges of the brush tool are. Lower hardness creates softer edges.
Step 2: Start by making your brush adjustments. Move the Hardness adjustment slider: higher for a more solid line or lower for a more feathered edge.
Pro Tip: If you're cutting out an image from a background layer, use a selection tool like Rectangular or Circular to remove the excess background before doing detail work around your subject. To get a perfect circle or square, hold Shift while you drag the Circle or Square selector.
Step 3: Once you have sufficiently cutout around your subject, click Apply. You'll see more layer options appear before applying the effect.
Trim Transparency: Removes excess transparency and cuts image down to the subject.
Export as Layer: Turns the transparent layer into a separate file in your Image Manager.
Lasso & Shape Brushes
Lasso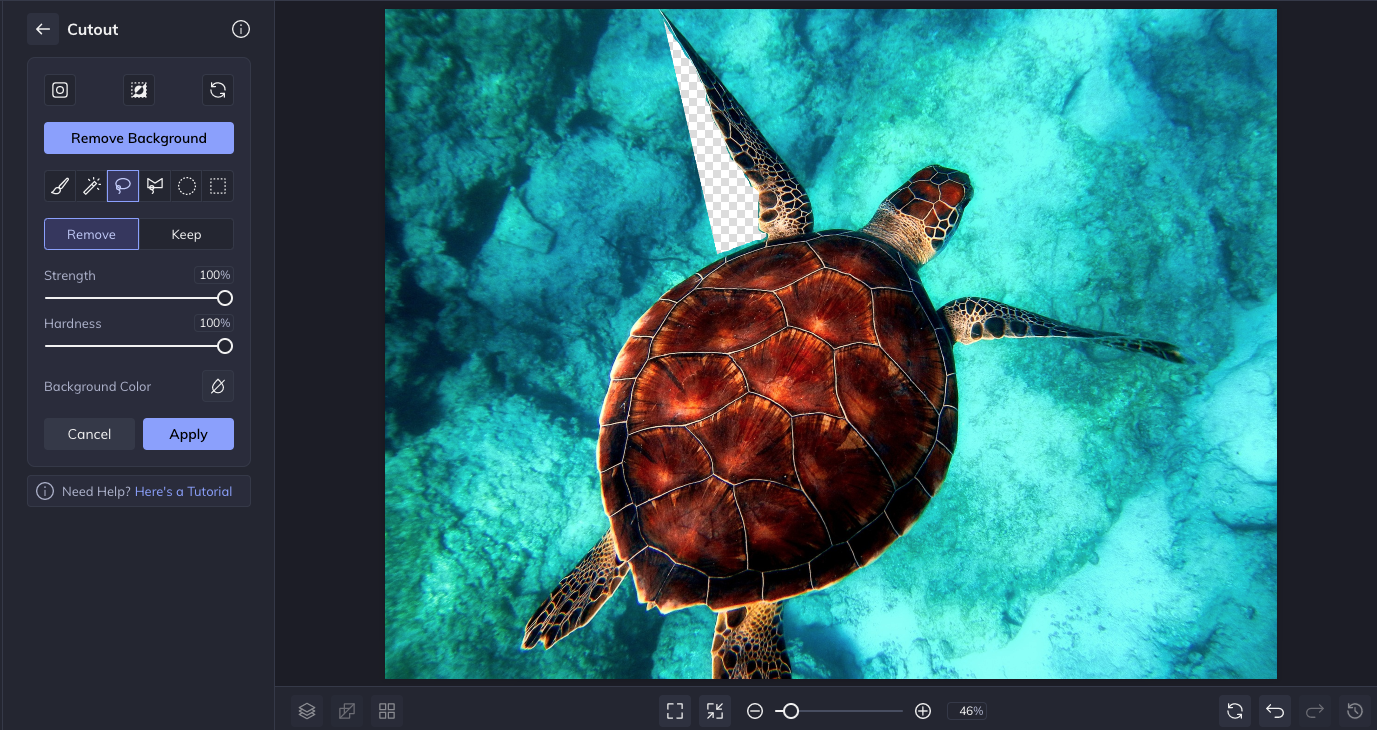 Circular
Cutout has four selection options that operate similarly: Lasso, Polygonal Lasso, Rectangular, and Circular.
Step 1: Choose the Cutout tool you'd like to use.
Step 2: These tools only have two adjustment options, Strength and Hardness. Make sure you set these before making your selection.
Strength will adjust how opaque the transparency is to the cutout area.
Hardness defines the softness of the selection edges. Higher for a more solid line or lower for a more feathered edge.
Step 3: On your canvas, click and drag your chosen tool to select the area you would like to Remove or Keep.
Step 4: Once you've made your selection, select Apply and choose your layer options to apply.
Magic Brush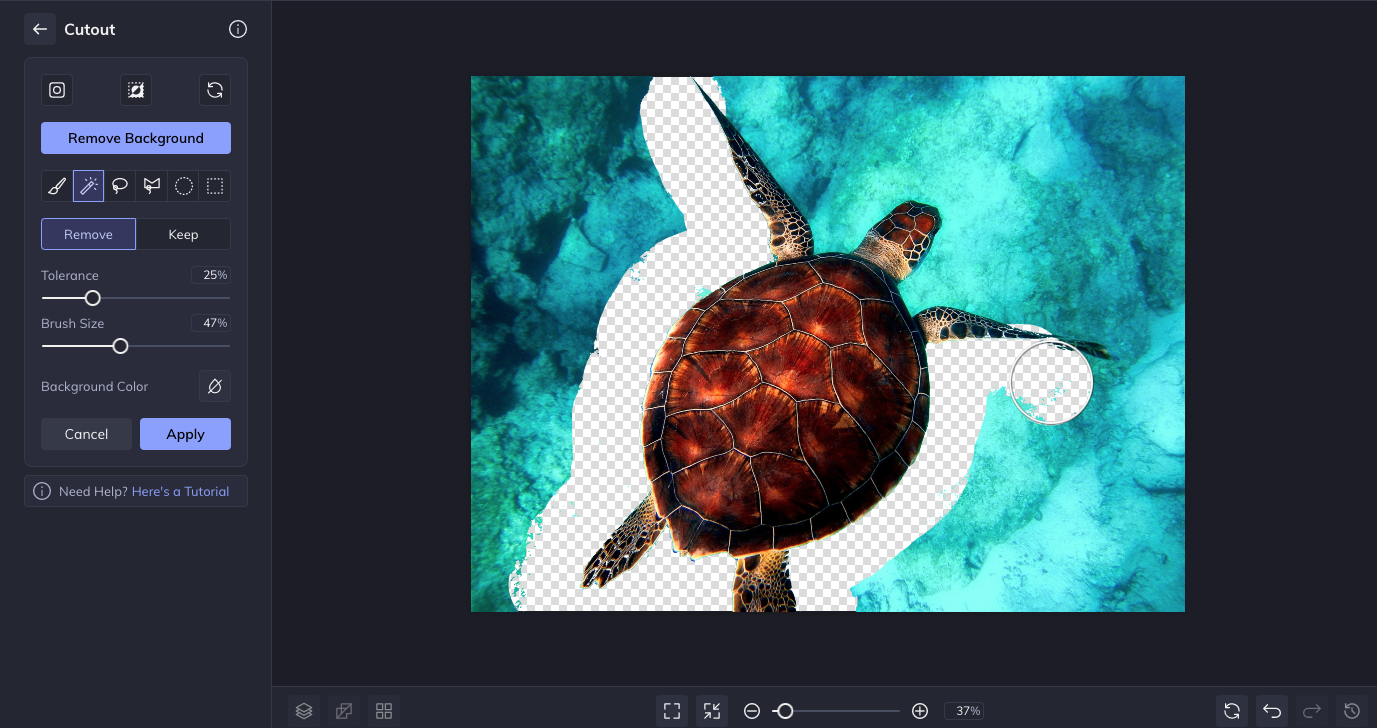 Our Magic Brush tool makes selecting easier than ever. It is built with smart technology that detects differences in colors, allowing you to remove backgrounds or isolate objects in seconds. We have a tutorial that goes over the Magic Brush in-depth, below is a quick rundown:
Step 1: Before you start using Magic Brush, use one of the other Cutout tools to remove the excess background around your subject..
Step 2: Select the Magic Brush and trace around the subject of your image. You'll see the mask follow your brush movements, then remove any parts of the image it has selected.
Pro Tip: If you remove too much of an area, switch back to Keep and brush over the area again to bring it back.
Step 3: Switch to the Paint Brush tool to remove any excess background that is still visible.
Step 4: Once you've cutout your subject, select Apply and choose the layer options you'd like for your cutout.
Looking for more inspiration? Check out another tutorial: