If you'd like to turn your photographs into sketch-based art, BeFunky has you covered!
Step 1: Open your Photo Editor and head over to the Artsy effects.
Step 2: Choose the Sketcher category to see all the variations. This effect has 6 different variants.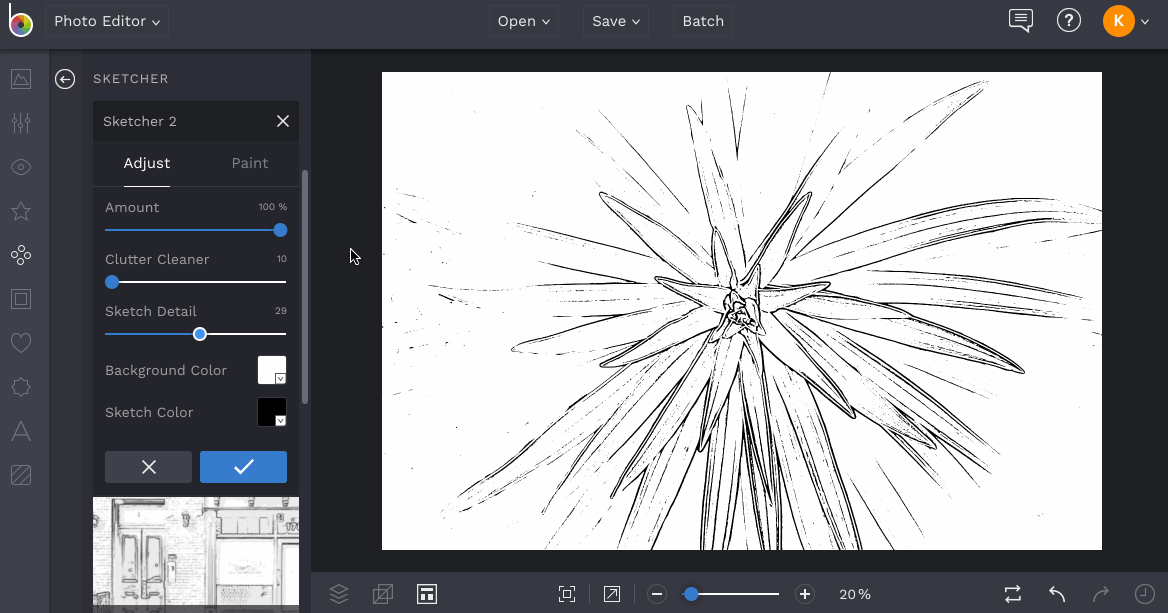 Step 3: For any of the variants, click on the Settings wheel to see a variety of settings pop up.
Amount: How much of the effect is placed onto your image. Go to 100% to fully cover, or move down for some transparency to the original image.
Clutter Cleaner: As you move this you'll see the details of your image change. A higher adjustment will have a cleaner look, and a lower one will show more details of the image sketched.
Sketch Detail: For a more dramatic look, move sketch detail up. This will create heavier lines around your image's edges.
Background Color: Change this to set the background color of your sketch.
Sketch Color: Change this to set the color of ink the sketch effect applies.
Halftone Size: If a halftone dot overlay is applied, and how large the dots are if applied.
Dot Size: For the Sketcher effects that will always apply a halftone overlay, how large the dots are.
Color Detail: Move this to fine tune the detail within the color overlay.
Step 4: When you're ready to apply the effect, click the blue checkmark.
Check out the full spectrum of Sketcher effects you can achieve with BeFunky -
Sketcher 1:
Sketcher 2:
Sketcher 3:
Sketcher 4:
Sketcher 5:
Sketcher 6: