Follow along with our guide for info on adding a watermark and creating a preset to quickly add your watermark to images.
Step 1: Open your image in the Photo Editor. Adding a watermark is designed to be the last step in your photo editing workflow, so after making all the edits to your image you'd like, click the Save button before selecting Computer.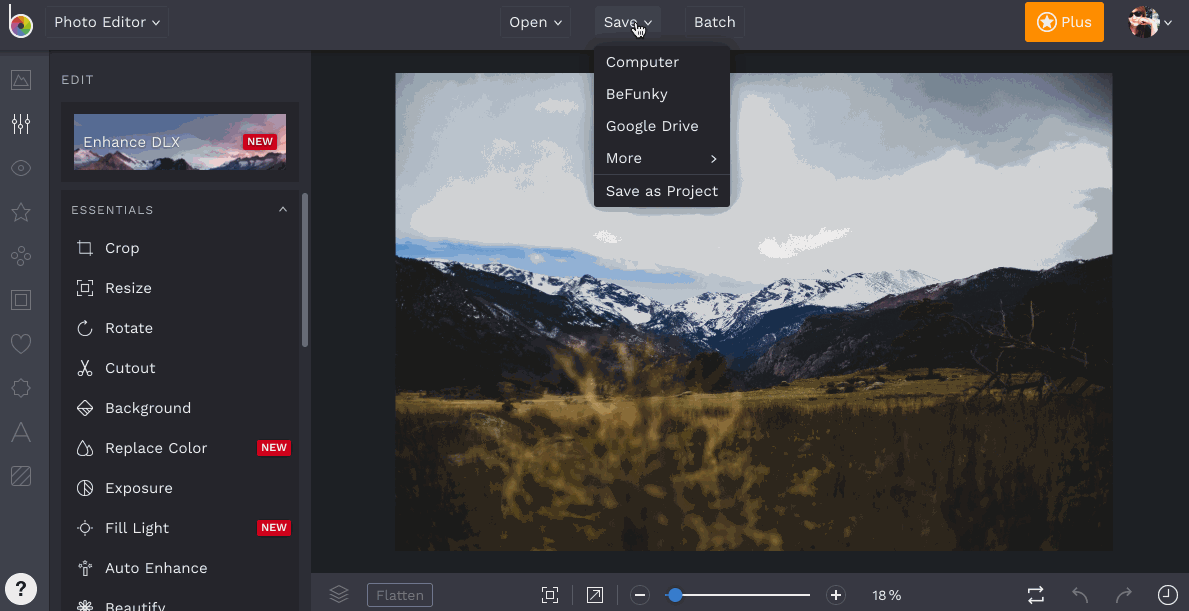 Step 2: Once you've selected Save to Computer, you'll see a checkbox titled Use Watermark. Check the box and click the button titled Create Watermark Preset to upload your watermark file and start customizing it as a preset.
Pro Tip:
Create your watermark with a transparent background and saved in PNG format – this way your watermark will look seamless no matter what image it's placed on.
Step 3: In the Watermark Preset Editor menu, click the Upload Watermark button to upload your watermark. This can be your logo, website url, icon, or any watermark design.
Step 4: Next, use the sliders to adjust the Placement, Size, Padding, and Opacity.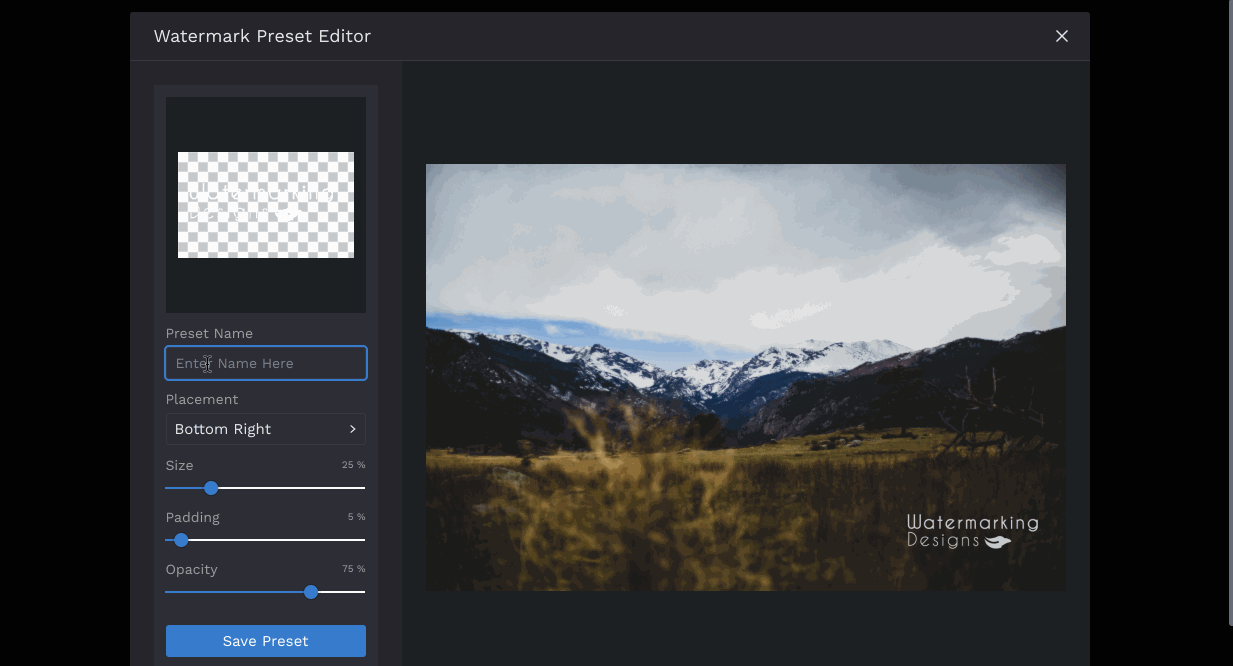 Adjusting the Size slider to the right will make your watermark larger, while adjusting to the left decreases the size. Adjusting the Padding slider to the right will create more space between the watermark and the edge of the image. And finally, sliding the Opacity slider to the left will make your watermark more transparent, while sliding it to the right will make it more opaque.
Pro Tip:
It's best to keep the opacity on watermarks in the 40-60% range, as to not distract too much from the image itself.
Step 5 - When you're finished customizing your watermark, click the Save Preset button. Your preset will then be added to the Save menu for easy access to add on future projects.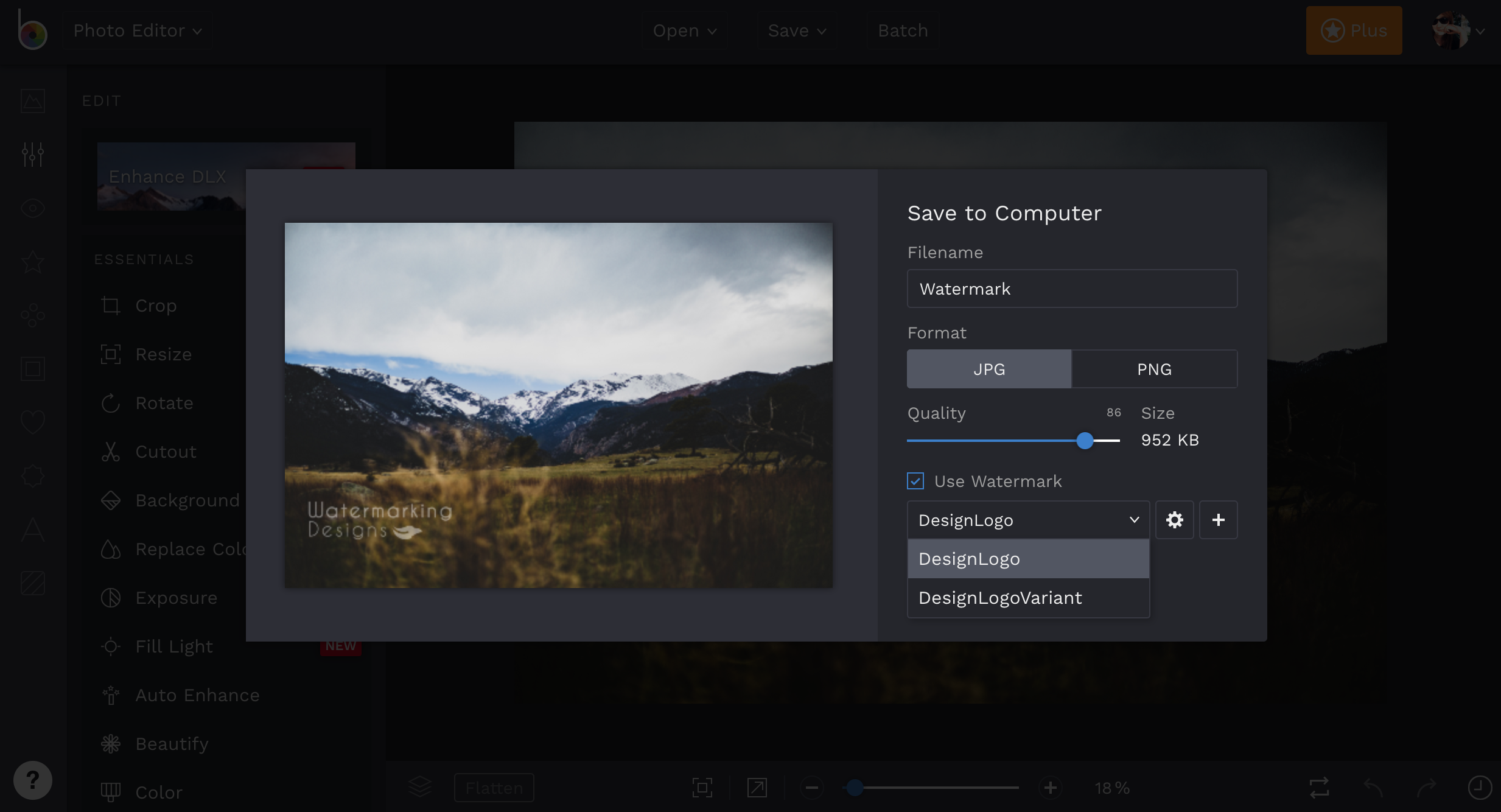 You'll notice that even after you save a watermark preset, you have the option to edit your customization choices by clicking the Edit Watermark Preset icon in the Save menu. You can also click the plus icon to create as many new watermark presets as you'd like.
Final Results: