Watermarks can assist in establishing a brand identity and help protect your work from theft by having your name or business clearly labeled on your images. This guide will show you how to create a transparent logo to add as a watermark to your images.
Step 1 - Open the Designer and click on the Blank Canvas tab. You have several size options here, but a mid-sized canvas will be most versatile for a logo. Consider using 5 x 3 in for a horizontal logo or 5.5 x 8.5 in for vertical logos.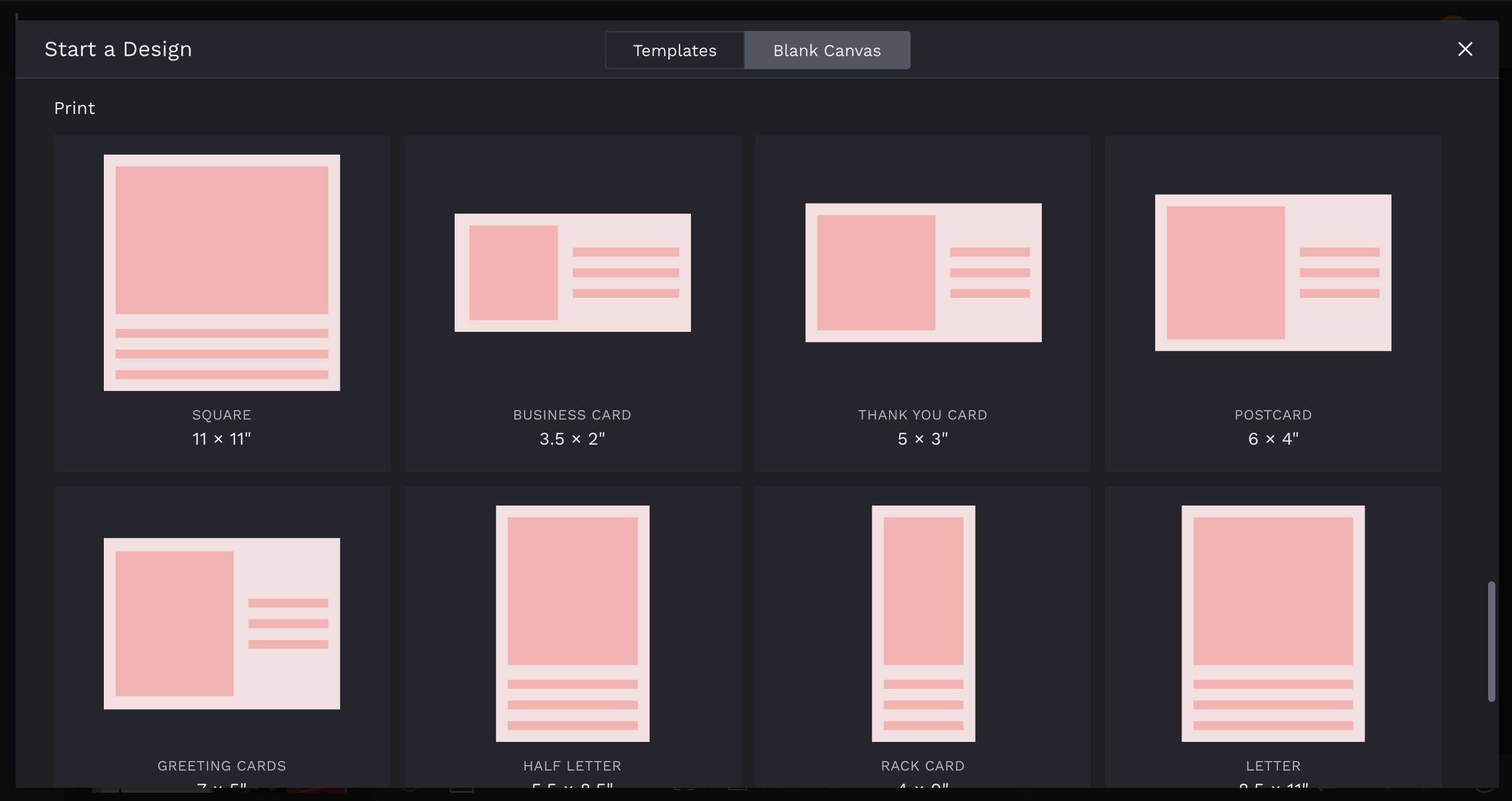 Step 2 - After you've selected your canvas size, choose the Customize tab from the menu on the left, then choose the first of the colored tiles to get to the Color Palette. Select the icon that looks like a white box with a red line going through it, which represents a transparent background.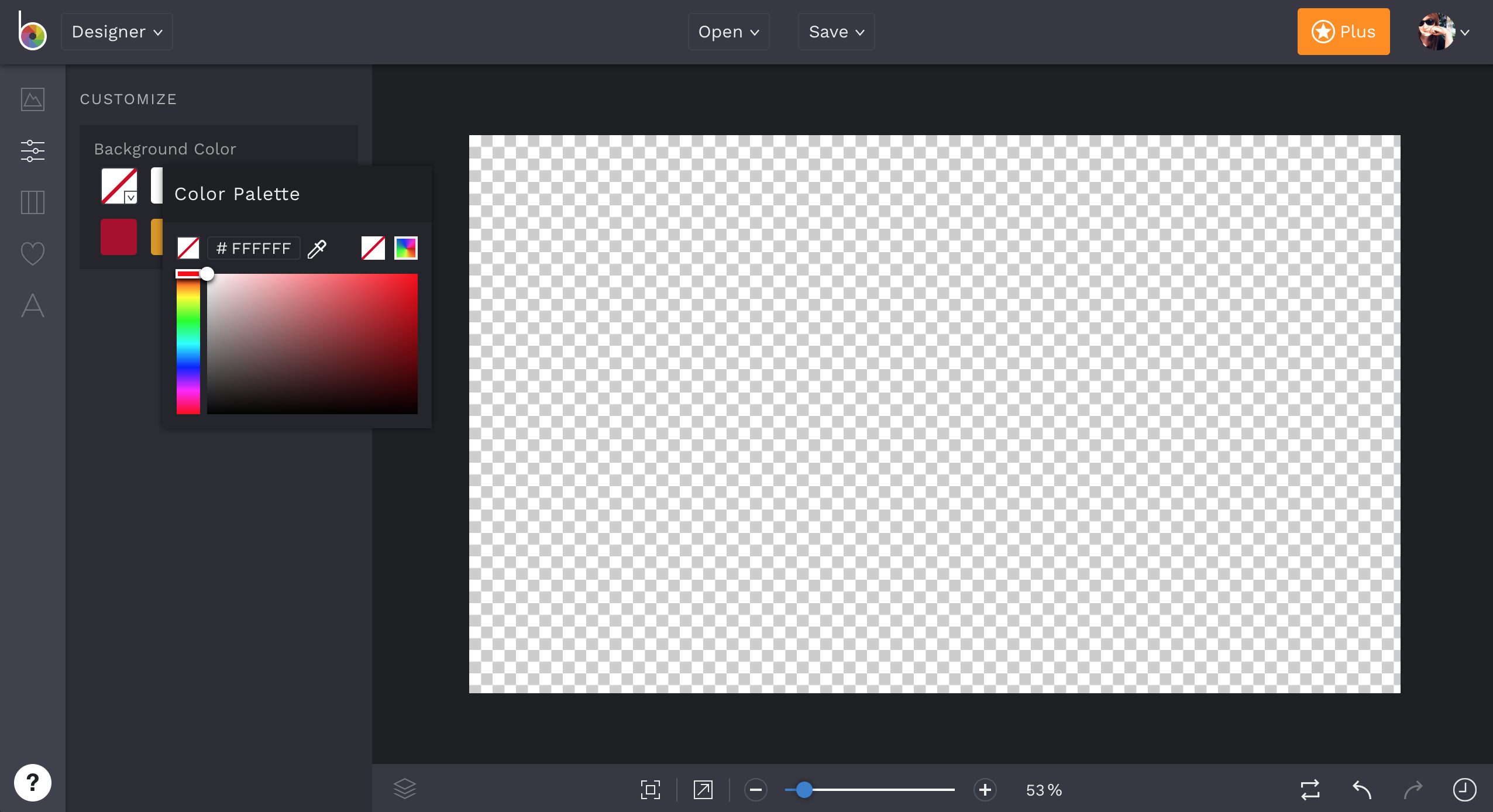 Step 3 - If you're designing a text-driven logo, add your text by clicking on the Text tab in the menu on the left, then clicking the green Add Text button. You'll be given a text box you can click into to start typing.
3a) To adjust the font, click on the font name in the Text Properties toolbar to search our library of free fonts.
3b) If you have fonts downloaded to your computer that you'd like to use, use the Font Search bar to type in the full name of the font, or drag-and-drop the font file from your computer into BeFunky. It'll automatically upload your font and keep it saved for future use.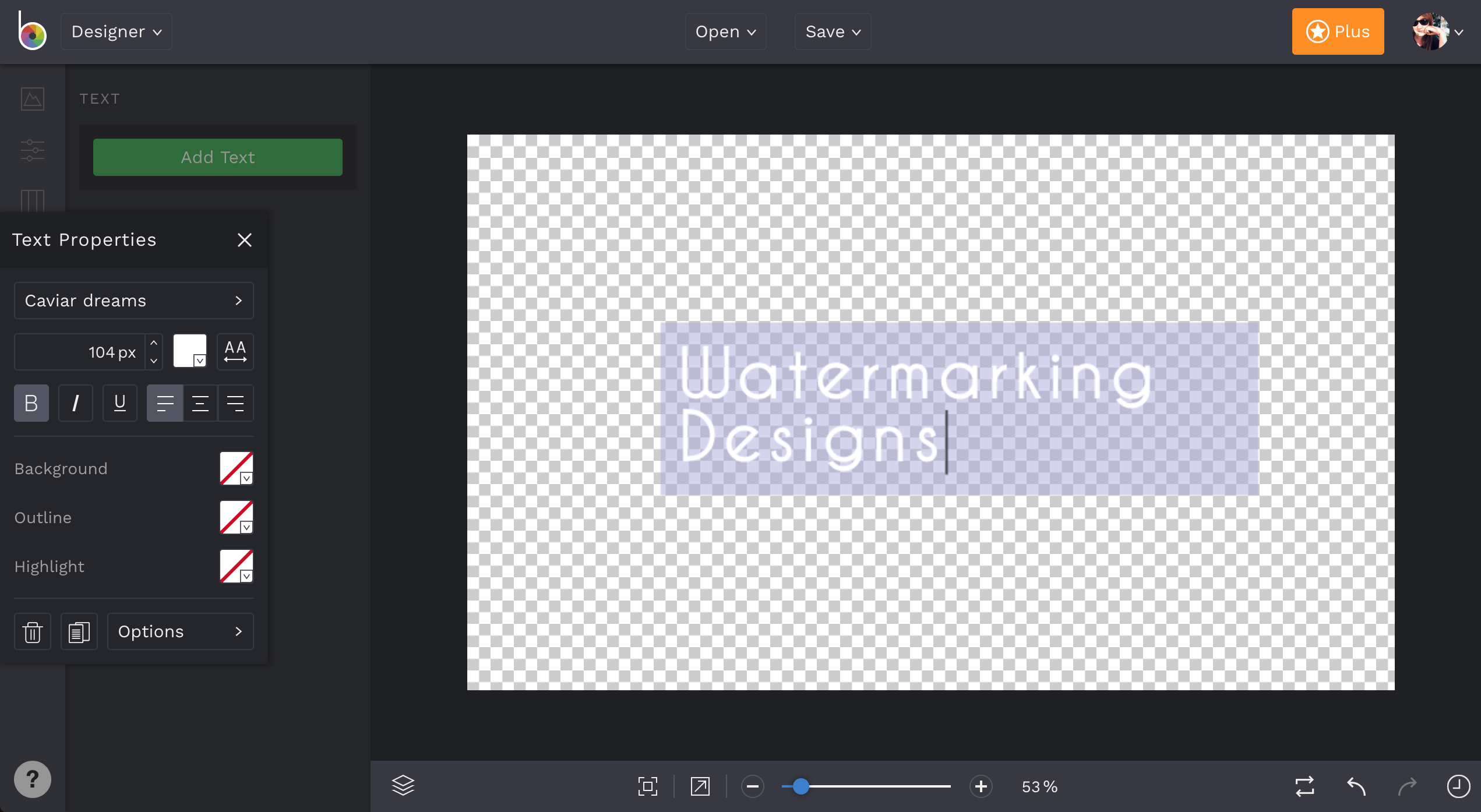 If you'd like to customize the text even further, the Text Properties window will show you several options for changing text color, letter spacing, blend modes and more. Experiment with these options to find a style that suits your brand!
Step 4 - While you can certainly just use text for your watermark, add some more character by choosing a graphic to go along with it. Choose the Design Elements tab from the menu on the left to search hundreds of FREE graphics in BeFunky's graphic library.
Once you've chosen your graphics, exit out of the graphic search and you'll see them all appear under the Your Graphics tab in the sidebar. Drag-and-drop these graphics into your canvas, and adjust them to fit your style.
Pro Tip:
If the checkerboard in the background is interfering with visualizing your logo as you create it, change the background to a solid color while you design your logo and go back to remove the transparent background as shown in Step 2 when you're finished designing.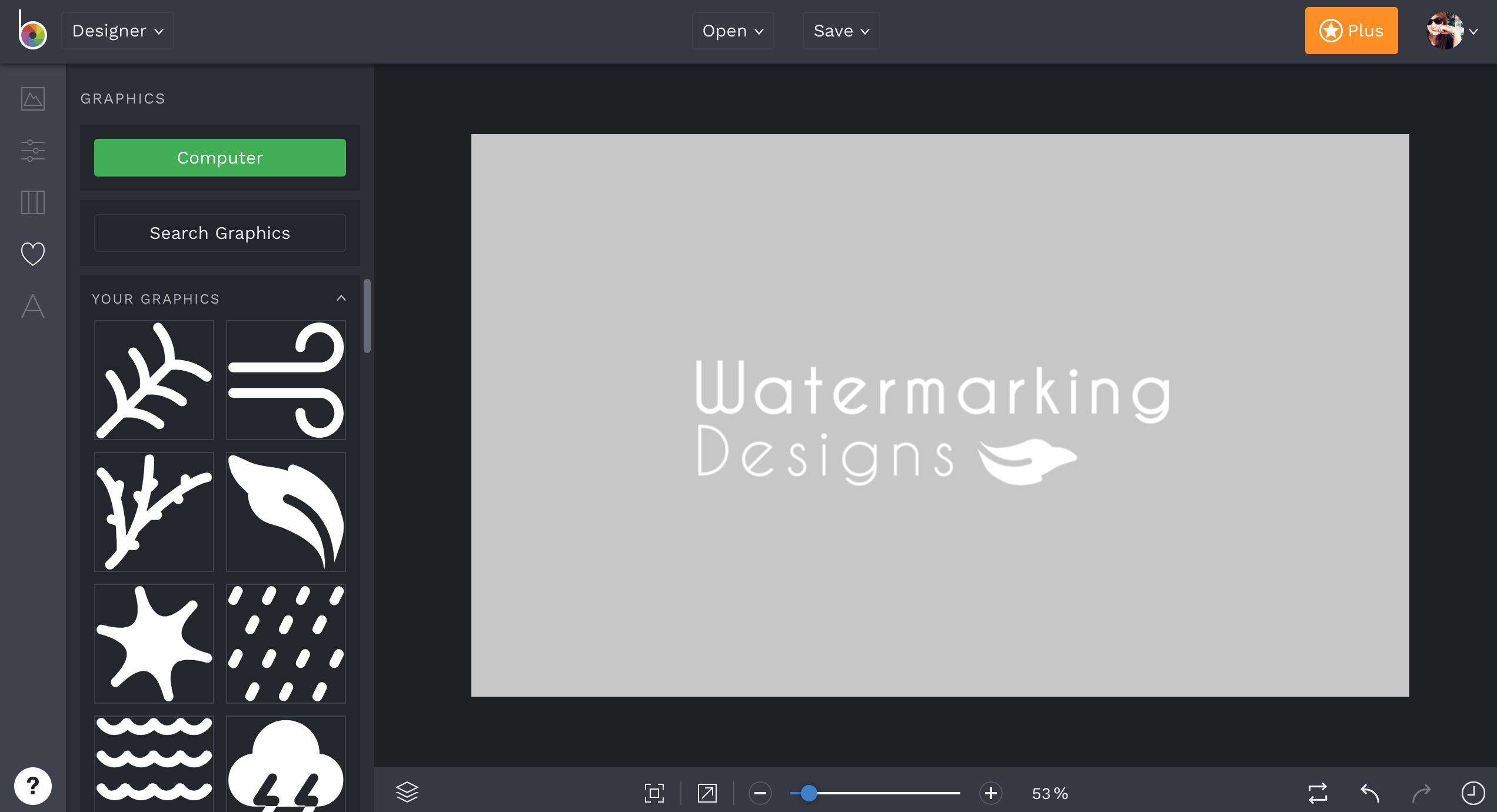 Use the Graphic Properties toolbar that appears to have access to a variety of options like changing your graphic color, adjusting the blend mode or rotate / resize. To move it around the canvas, click the graphic and drag it to reposition. You'll notice snap lines appear whenever you're repositioning the layers on your canvas. These will help with locating the center of the canvas and aligning each layer precisely.
Pro Tip:
If you customize a graphic and want to duplicate it, click on the graphic and press the 'D' button on your keyboard to create an exact replica.
Step 5 - Once you've finished your design and you're ready to start using it, click the Save button at the top of the Designer (don't forget to change the background back to transparent if you made it solid while designing).
When the Save dialogue comes up, select the destination on your computer where you want to store the file, then click the PNG button under "Format".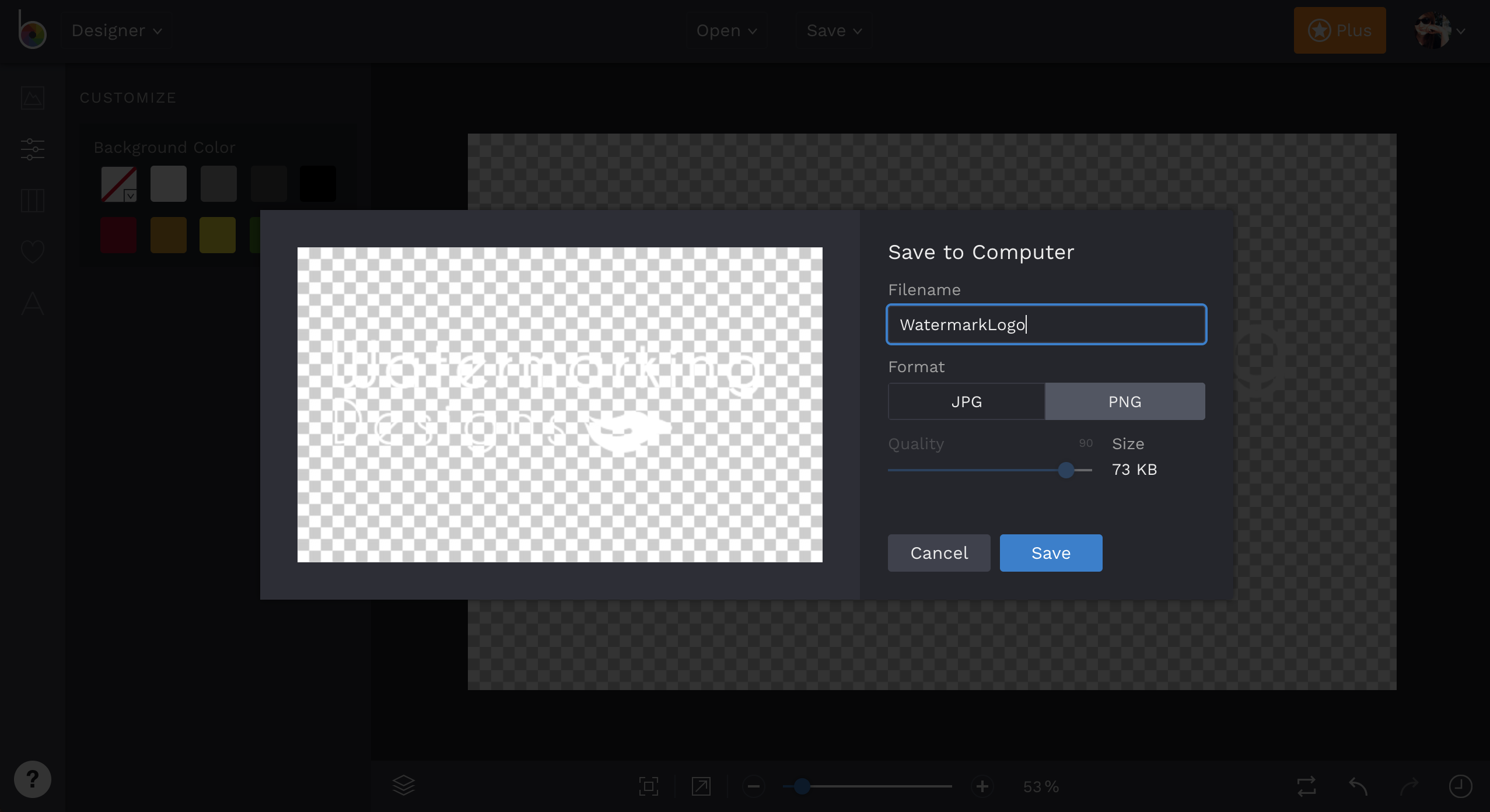 Saving as a PNG format will keep the background transparent. If you save as a JPG or PDF, your logo will save with a white background.
Step 6 - Now that you've saved your logo, you can apply it to any of your BeFunky projects or images! Use the Watermark Tool to create a watermark preset and easily add your watermark to any of your images.
Now you'll have your logo ready to go to apply to any other images in your BeFunky account!
Looking for more inspiration? Check out our blog post: