Working with Your 'My Photos' Page
What is 'My Photos' Page?
If you're a registered user, you can store your creations on your 'My Photos' page and come back at any time to view them. Select the BeFunky option on the save dialog box to store your images on your Gallery. You can also showcase your creations publicly at your 'My Photos' page. You decide which images will be available to everyone by setting it's privacy from the lock button when you hover over a photo.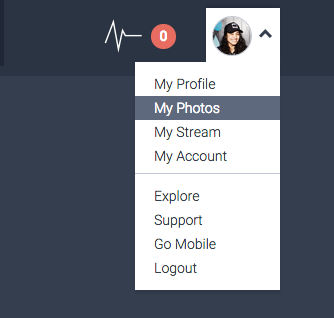 How do I see My Photos?
Click on the "My Photos" or "My Profile" link when hovering over your avatar on the top right of the page.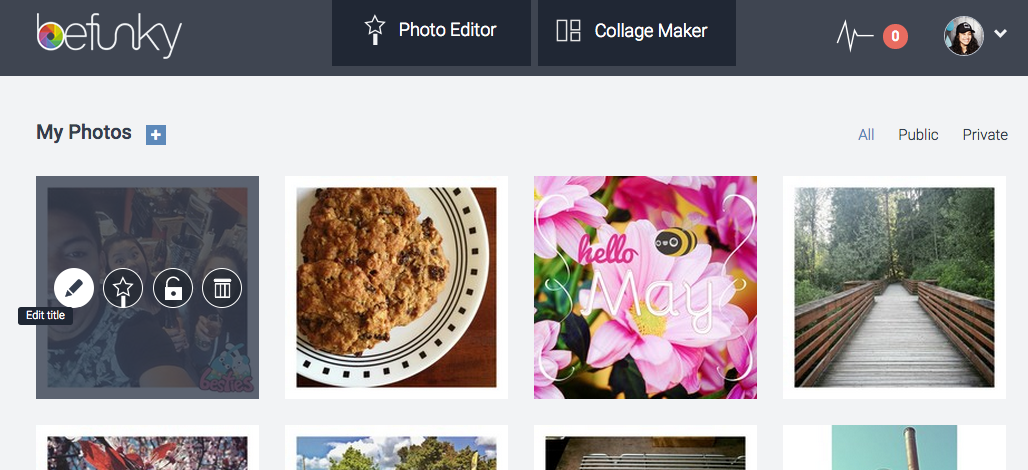 What kind of information is stored in 'My Photos'?
To help identify each photo, the following information will be displayed:
Title: You can give a title to your creation. This is located on the top of the gall.
Tags (hashtags): You can add tags (keywords) to your creations.

 

Tags can describe a photo and allow it to be found again by browsing or searching.
Date Created: The date that the creation was saved to your gallery.
Privacy Setting: This indicates whether the image is private (only you can see it) or public (others can see it). You can change the image privacy setting anytime you want.
What kind of changes can I make to my images  stored in 'My Photos'?
When you hover with your mouse over each photo you can choose to:
Edit the Title
Open it on the Photo Editor
Set it to Private or Public
Delete it by sending it to Trash